Outdoor Activities around Ballinamore
Ballinamore Town Heritage Trail
Starting at the old Railway Building at town square, the trail takes in the Railway Station, the Courthouse, the Creamery, the Market House, the Convent, the Old Barracks. Information pillars are located at each point with back up information in Ballinamore Tourist Centre.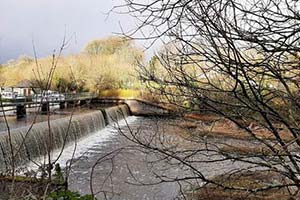 Ballinamore Looped Walking Trail
Walk around the outskirts of the beautiful town of Ballinamore, which meanders alongside the beautiful Blueway on the Shannon-Erne Waterway.
The Ballinamore Looped Walking Trail meanders alongside the tranquil waters of the Shannon-Erne, with the picturesque town of Ballinamore at the centre. This 4.5km looped trail starts at Ballinamore Marina before looping around at Longstone and back to the beautiful town of Ballinamore.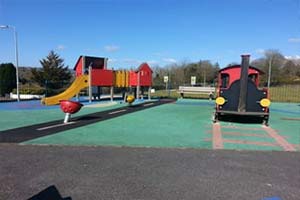 Ballinamore Playground is located on the Swanlinbar Road just beside the Ballinamore Sports Complex. A place to bring your children to enjoy themselves on the playground while you enjoy the tranquil scenery of the Slieve an Iarainn and Cuilcagh mountains in the background.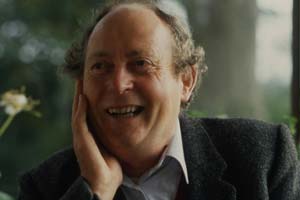 Famous son of Ballinamore, John Mc Gahern 1934 – 2006 one of the most important Irish authors of the twentieth century, has been hailed as 'the greatest Irish novelist.'
'The best of life is lived quietly, where nothing happens but our calm journey through the day, where change is imperceptible and the precious life is everything.'
John lived among us in Ballinamore, both in his early childhood and in his latter years and drew much of the inspiration for his work from the simple life and the beauty we are so fortunate to have all around us here.
Significant landmarks from his life and his writings are mapped in a nine point 'McGahern Trail'. At Hamill's, we are always delighted to share our delight and local knowledge with fellow enthusiasts. The trail takes in – Gate at the old Homestead, Knocknaroe House, Railway Station, Lisacarin School, Pat Macs Garage, Maggie's Shop, Memorial Seat, Aughawillian School and Aughawillian Churchyard – where he is buried with his mother. His deep appreciation of these places is intertwined in his writing.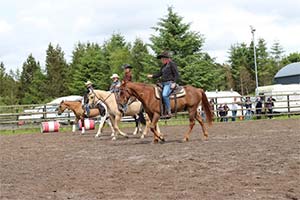 Western Horse Riding at Drumcoura City
Drumcoura City has an Equestrian Centre specialising in Western Horse Riding. If you have ever dreamed about riding an American Horse like the ones in the Western films, this is the place for you. Also home of annual country music festival 'Cowboys and Heroes'.
Discover and enjoy Sliabh an Iarainn, the beautiful rugged mountain in South County Leitrim, which ascends 585m(1927ft) from the eastern shore of Lough Allen, the first of the great Shannon lakes.
Terrain includes country roads, forest walks and open mountain. A series of Way Marked Walks on the slopes of Sliabh an Iarainn and Bencroy mountains – just 5 miles from Ballinamore. Choose from a full days walk of 20km with shorter half day walks. Each walk is documented with colour and brief notes on route finding, local and natural history. Features Sliabh an Iarainn or "Mountain of Iron" derives its name from the iron deposits to be found in the rocks. An ancient Irish Legend relates that the Tuatha de Dannan landed in Ireland in this very place.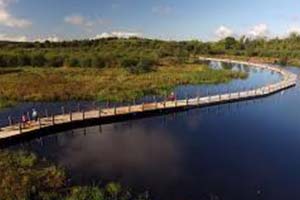 This is a stunning place to visit. The scenery is spectacular and it can be enjoyed from the water, by foot or as you cycle. Acres Lakes can be found just outside the town of Drumshanbo and is crossed by the Blueway's floating boardwalk. This is also the starting point of the 6.5km (one way) Blueway trail that takes you to Battlebridge. There is a playground there for the little ones and also Jinnys Cafe is across the road for delicious refreshments.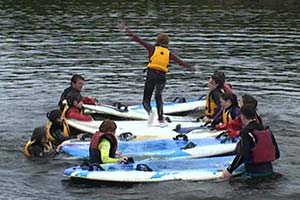 Lough Allen Adventure Centre
Lough Allen Adventure is an award-winning adventure centre offering Outdoor Recreation in Leitrim with a decidedly chilled atmosphere, which allows you the luxury of soaking up a relaxed "outback, outdoors" Leitrim experience. Enjoy the thrill of our amazing adventure program and reduce your carbon footprint, all at the same time. They have an exciting adventure program with activities ranging from fun & adrenaline fuelled watersports such as windsurfing and kayaking to reaching the summits of North-West Ireland's fabulous mountains. And lots in between.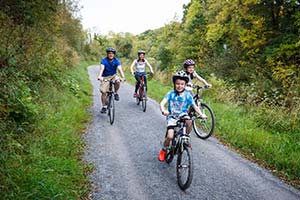 There is little doubt that both Leitrim and Roscommon are two of the most beautiful counties in Ireland for cycle holidays. Electric Bike Trails give you the opportunity and unique experience to explore some of the most beautiful trails in Ireland on one of their top of the range manual or electric bikes. Hire bikes from Electric Bike Trails in Leitrim Village and cycle the scenic Shannon Blueway to Drumshambo. The leisurely 20km round trip is tranquil and traffic-free and takes in the floating Acres Lake Boardwalk across beautiful lakelands. Pack refreshments for the many picnic spots along the family-friendly route.
The Miner's Way Walking Trail
The 62km long Miner's Way works its way through Leitrim, Sligo and Roscommon with walkers often choosing to complete the trail over a number of days. The trail also links up with the Historical Trail and Leitrim Way, making this part of the country a fantastic destination for hillwalkers of all abilities. The section of Miner's Way in Leitrim is relatively flat, particularly the first half and the climbs are often short and not very steep, making the 14km section accessible for all hill walkers.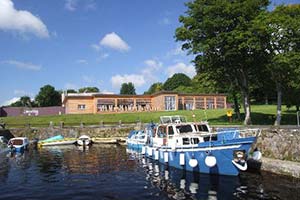 Discover one of Ireland's most extensive and picturesque forest parks. Enjoy the scenic nature walks, beautiful bog garden, enchanting wishing chair, magical underground tunnels, ice house and epic views from the observation tower. Wander along the tree canopy trail, bring the kids to the adventure play kingdom or explore the grounds with glorious woodland, a pretty lake and several islands.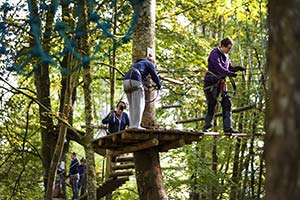 Zip It at Lough Key Forest Park
Zipit Forest Adventures offers up to 4 hours of tree-top, fun-filled, adventure challenge in a healthy, outdoor setting for adults and children from age 7.
Climb poles and climbing walls, swing into cargo nets, balance on a rope bridge, hurtle down a zipwire, even ride a BMX across a treetop bridge!
From beginners to adrenaline junkies, we show you how to make your day a fun experience – push yourself that little bit further with guidance and encouragement from our instructors, knowing that you are secure in your harness.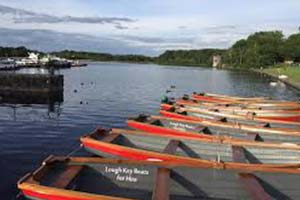 Experience the history and tranquility that Lough Key has to offer by spending an hour relaxing, meeting new people and simply just enjoying the lake and sights with Lough Key Boat Tours. They offer boat tours and boats for hire.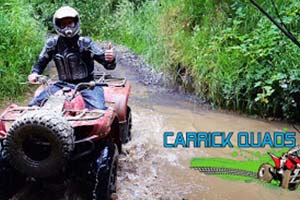 Carrick Quads is set on over 100 acres of fantastic Irish countryside. Quad biking through woodlands, rivers, rolling hills in Carrick on Shannon on four-wheel drive all-terrain vehicles to get your pulse and heartbeat racing. No experience required. This off-road motor-powered adventure is perfect for all levels – from the novice to the experienced, no matter what the weather.
Moorlands Equestrian Centre, Drumshanbo
Moorlands Equestrian Centre is a family run riding school based on the shores of Lough Allen, in the heart of Co. Leitrim. Established in 1993 by the Mc Manus family, Moorlands offers a wide range of activities for all ages and abilities. Its scenic, off-road setting, between Sliabh an Iarainn and the Arigna mountains, provides a perfect base for treks, and cross-country ride-outs. Open all year round.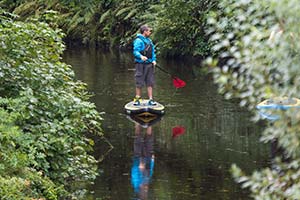 Book in with Leitrim Surf Company who specialise in stand-up paddleboarding and surf experiences. Go on a waterway safari, admire the Shannon Blueway and tour the Leitrim coastline.
Check out their Stand-Up Paddleboarding tours and head out on The Shannon Blueway or paddle the coast. With no waves or extreme wind to battle, paddling in Leitrim is a peaceful adventure. Ramble down the Blueway with your expert guide and revel in the delights of the waterways
Adventure Gently's guided canoe tours of northwest Ireland's waterways offer the opportunity to enjoy our beautiful landscapes from a different perspective. As the name suggests, this is a suitable activity for all ages and abilities.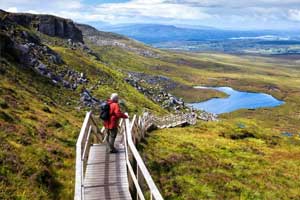 Cuilcagh Mountain and Stairway to Heaven Walk
The Cuilcagh Boardwalk Trail also nicknamed the Stairway to Heaven Walk is located in Co. Fermanagh. The route meanders through one of the largest expanses of blanket bog in Ireland, traversing over tracks, boardwalk and staircase. A steep climb is required to reach the viewing platform on Cuilcagh Mountain which provides breathtaking views of the surrounding lowlands of counties Cavan, Leitrim and Fermanagh.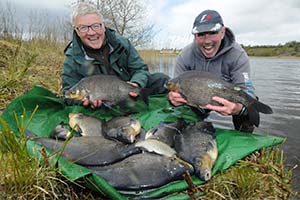 Fish Tracker is an angling service operating in the angler's fishing paradise of County Leitrim with its multitude of lakes and rivers all brimming with bream, tench, rudd, roach, salmon and pike. Fish Tracker organises fishing tours, they also sell air and hire out boats and equipment. When it comes to fishing, local knowledge is key and there is nothing better then to be greeted by a fellow enthusiast who lives in the area that you are about to fish and who knows the best lakes and rivers in the area.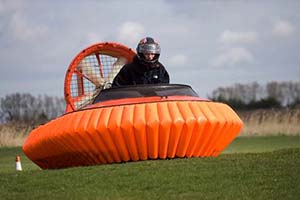 A dedicated Extreme Experience Park for adult entertainment (plus stuff for uber-cool kids from 10 +). ODD are pretty unusual, because nowhere else offers the combination of crazy extreme experiences that you'll enjoy at ODD. Try Rage buggy racing, Powerturn Dragsters, Clay Shooting, and Hovercraft Racing on Ireland's only wild water lake and grass course. Add paintball, laser combat, KMX karts, archery plus 'alternative' team building challenges, and you're spoilt for choice.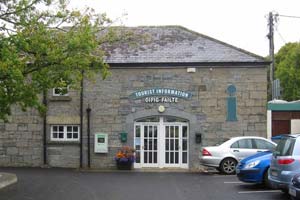 Leitrim Tourist Information Office
The Old Barrel Store,  Carrick-on-Shannon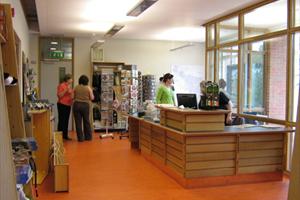 Cavan Tourist Information Office
Farnham St, Abbeyland, Cavan